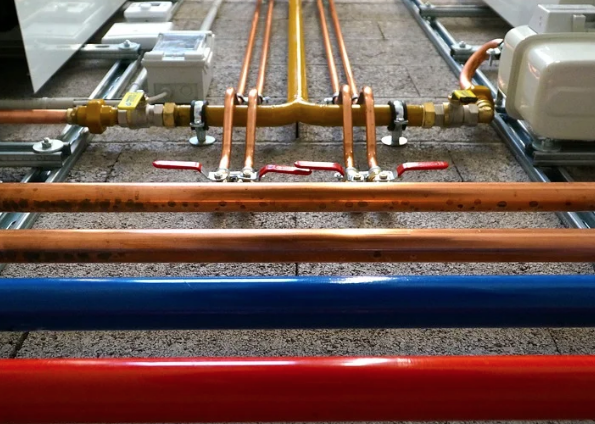 Modern plumbing uses a variety of pipe materials. Each have their own use and function. Knowing the types of plumbing best for your home eliminates property damage and expensive plumbing bills. The main five types of pipes include galvanized, copper, PEX, PVC, and ABS piping. Both older and newer homes have this type of plumbing. However, each pipe works best in specific situations.
PEX Plumbing
PEX plumbing, or polyethylene cross-linked pipes has remained popular because of its affordability and water safety. Homeowners do not need to worry about rust leaching into their drinking water. The PEX pipes have flexibility and several handy connection methods. PEX tubing has three distinct colors: Red (hot water), White (either hot or cold), and Blue (cold water).
PVC Pipes
Find PVC pipes in a drain, waste, and vent pipes. PVC is best used in low-temperature needs like toilet. PVC cannot handle high-pressure situations and shouldn't carry hot water. PVC pipes can be used for kinks and plumbing vents.
ABS Pipes
ABS pipes (acrylonitrile butadiene system pipes) have been used in waste, drain, and vent pipes. ABS pipes can withstand a higher impact than PVC pipes. However, ABS pipes cannot handle sunlight.
Copper Pipes
For decades, copper pipes provided necessary plumbing around showers, tubs, and sinks. You will find copper pipes in both old and new houses. Because installation requires a propane torch, copper pipes require the use of a professional plumber for installation and repair.
Galvanized Pipes
Galvanized pipes traditionally offered a better option than lead pipes in water supply and drain lines. However, galvanized pipes might rust. For homeowners with galvanized pipes, retrofitting with copper and PEX piping will ensure clean water.
Install Quality Plumbing with Reliable Drain & Plumbing
When you need to repair or install new plumbing call the most reliable plumbing service in Toronto and the Greater Toronto Area. Reliable Drain & Plumbing offers the best 24/7 emergency plumbing service in the region. Industry leaders we promise quick emergency service when you need it.
Contact Reliable Drain & Plumbing today. Our friendly staff will be happy to help you with all of your plumbing and drain needs. Call us now.