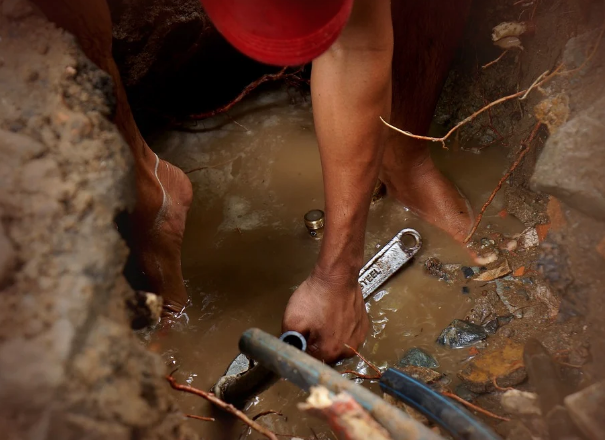 Each plumbing system has three major components: pipes and fittings, drainage, and fixtures. Knowing how the plumbing system works in your home helps you find the best and safest plumbing pipe and helps you minimize plumbing emergencies. With proper maintenance and proper installation, you can enjoy years of a stress-free plumbing system. Get better insight into your plumbing system. Understand how the system works to better diagnose problems when they occur.
1. Pipes and Fittings
Your plumbing system runs throughout your home. You might have plumbing in your kitchen, basement, bathroom, and even garage. The pipes and fittings include every pipe that runs throughout your home from the main water supply lines. This includes the safest plumbing pipe for your water supply. Most systems have cold water and hot water pipes. Each pipe can withstand a certain temperature. These pipes and fittings can be made of a variety of materials including:
The team at Reliable Drain & Plumbing will install the best piping option for your system. These pipes and fittings connect throughout your home from kitchen to bathroom.
2. Plumbing Fixtures
The plumbing fixtures connect to the pipes and give you access to your water supply. Plumbing fixtures include:
Sinks
Bathtubs
Hot Water Heater
Washing Machines
Dish Washers
Toilets
Each fixture needs to be properly installed and maintained to save on water usage and minimize leaks. Be sure to research how to maintain your bathroom fixtures to maximize their lifespan and decrease unwanted plumbing emergencies.
3. The Drainage System
Outside of a clogged toilet, the drainage system is a key part of your plumbing system that might cause a costly emergency. Your drains connect the plumbing fixtures to the waste removal lines and the sewage system. Be sure to avoid clogging your drains. This allows sewage and waste to pass through freely without clogging.
When clogs occur, household chemical drain cleaners and plungers can address minor drainage problems. When there is an emergency call the experts at Reliable Drain & Plumbing. Call the experts at Reliable Drain & Plumbing whenever you need to update old plumbing or are dealing with a plumbing emergency. We have a wide variety of services including drain snaking and repair, plumbing emergencies, and waterproofing. Call us today.